Furniture Designer/Artisan
Scott Johnston

818-708-3744

SPECIALIZING IN TV LIFT FURNITURE - SINCE 1991

Motorized TV Lift Cabinets to fit 20" to 80" TVs. - Where Quality and Years of Reliability Count.

As a Furniture Maker, I work closely with my clients, the top USA TV Lift Manufacturers and coordinate component requirements with Audio Video Specialists throughout the country.

I utilize TV Lift Systems that lift up/down, slide, swivel and pivot in floors, walls, built-ins and in furniture. I have accumulated years of knowledge and experiences to provide innovation in design,

excellence in craftsmanship and commitment in producing successful Motorized TV Lift Furniture

projects. Meticulous attention is paid to Cabinet Details, Quality of Materials, Fabrication and

Hand-finishing. Each TV Lift Cabinet project is custom made to order just for you!

Please Call With Your Vision

.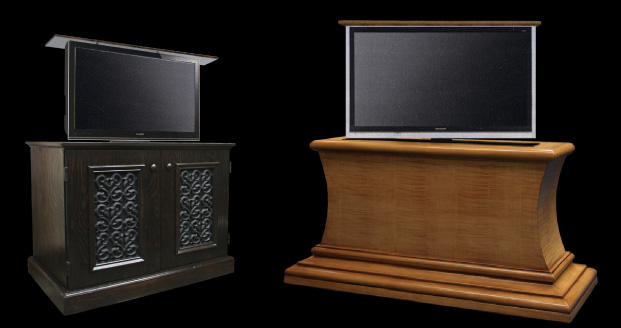 TV Lift Collection
Product Line
ENTER
Custom Gallery
Original Designs
ENTER
The Wood Extension

offers TELESCOPING and RACK & PINION MOTORIZED TV LIFTS
from well established USA Manufacturers for their high quality products and services.
These TV Lifts are of all steel construction and are commercially rated for
years of operative reliability with a Manufacturer's 5-Yr Warranty.
Also offered are Custom Engineered TV Lifts Systems and Custom Designed TV Lift Furniture.